8/23/16
Since we made our most recent boat purchase, it seems we have been visiting more lakes this summer than we did before on our previous boat.
What can I say; it's a refreshing way to beat the heat in the 'Arid Zone' besides the pool of course.
Louis and I used to head out to Lake Pleasant all the time, which is one of the closer lakes to us but after a while, we thought well; we have a new boat…So let's check out some different lakes?
I am sure we will still go to Lake Pleasant every now and then but truth is they don't have many beaches so it can get a bit unpleasant for some at times, especially if you are looking to relax on the side.
But I still do like that lake…It was my first lake with my true love.
One of Terania's first times in the lake water…
I'm sure you have seen some of the videos we posted testing our boat and so far we have been to Canyon Lake 1 / Canyon Lake  2 / Canyon Lake 3; Apache Lake, and Saguaro Lake.
It has been a very interesting experience at each one as well as very restoring for the soul.
Surrounded in such wilderness and tranquility, all you will want to do is float and put your feet in the sand – where there is some, that is!
Nevertheless, we all know that on the flip side of those high spirits, there can be some hardships.
Well, the last two days have been just that…Then again, it's usually to get you ready for something better.
Yeah…Like waiting on the next new moon perhaps? LOL
You know, it has been the waning moon and this is the time one may feel at their lowest or experience the slightest of happiness.
Though for me, just being with my wonderful husband and little Lady Pup I am happy regardless.
On the other hand, my husband always says that "human will is stronger than the stars" and knowing this, he didn't want to listen to our universal forecast we put out earlier this month.
With the full moon that began in Aquarius, August 18th; this meant that the next two weeks will be full of shocking surprises related to Aquarius but my husband kept telling me to remain positive.
Entrails Upset Spit Above
Red Fire Wind Water to Dance
Stars Command Shock Science
Calm Deception to Strike
KEYWORDS
Japan / Asia / Cosmic News / NASA  / Space News / Nukes / Weird news / Freak / Space / Rocket / Surprises / Explosions / Shocking / Stunning / Baffling / Incredible / Lightning / Unusual / Humanitarianism / Children / Unrest / Discovery / Science / Earthquakes (always above 6.0)/ Volcanoes / Tornadoes / Aeronautics / Technology / Electricity /Television / UFO.
Though I was doing my best to keep positive, I intuitively knew that even we may not be doing much this weekend; everything would be better next time around.
Still yet, let's take a chance because sometimes it's better than the last…Hmm.
Travel and Communication: Some lucky souls will travel far and fast or make great plans to visit the past soon. Not to forget that Uranus rules electronics, the future, astrology, psychic phenomena, and UFOs (Waning moon – negative reptilians). If you want to see something unusual, talks about it don't do it now! Uranus may decide to grant one of your important wishes but it could turn out for the worse! Better to wait for the next new moon…Keep an eye on your possessions and avoid drinking too much in public places.
Earlier on Sunday morning, I was getting dressed and I put my swim suit top on backwards twice.
Usually when this happens, it's a bad surprise.
I can't tell you how many times my husband has done this too and it's usually a bad surprise in the waning moon and a good surprise when the moon is waxing.
However, I kept my swimsuit top on backwards anyways; threw over my tank top and went on.
The boat was hooked up and most all was packed other than the food, since we decided we would stop along the way for some sandwiches but other than that; most was ready to make for another lovely day.
Before we knew it, the first bad surprise was that we noticed that the right tire was quite low and after two local gas stations and four dollars or so spent, we found the right equipment to inflate the tire lol…
Low air supply!
So, we then began our one hour and fourteen minutes up to the Superstition Mountains and took the Apache trail.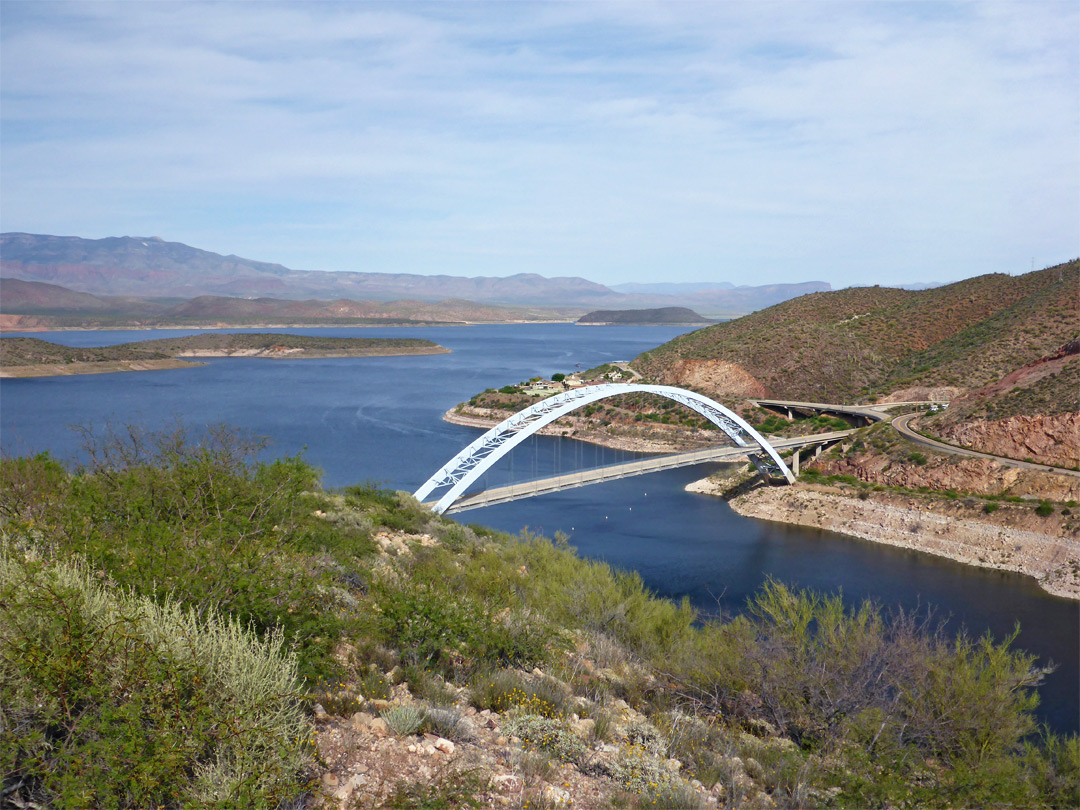 We knew too that it was the day before school in some areas but we wanted to make sure that we would be surrounded by some folks instead of going that far on a weekday with a possibility of no one in sight.
Close enough to our destination we stopped for some snacks and pita wraps and then hopped back on the mountain trail and made our way around.
Finally arriving at the reservoir control section to launch our boat off the ramp, I first noticed the sign of the many DUI arrests made over the last few days since we were last there.
And it wasn't long before we crossed paths with several Lake Patrol Division locking eyes with us.
Louis soon realized that we shouldn't take any chance of hanging around that energy and figured this may not be our lucky day after all.
With so many waves rocking the pier it wasn't going to be any fun getting the boat out into the water with such rising water levels (Waning moon in Pisces), nor was it going to be relaxing having to keep our eyes peeled constantly; because the fact is; while you can enjoy your time under a waning moon…What it comes down to, is that a waning moon day isn't always going to be your usual waxing moon day.
This is one of the last tragic occurrences we recall among others; from the same lake:
He (and the rest of the world) should have read my husband's forecast for those days and be aware of his SOS to the world deadly windows…
Well, we took everything out of the boat and jumped back in the truck heading our way back out of the mountains but with no reception, our cell phones didn't work and neither did the tablet so I couldn't look for another alternative to save the day at least until we were back on the freeway.
To make matters worse, our GPS passed away…Seems like every time we get close to a mercury retrograde phase; all electronics fail us. But this isn't once but so far, three times within the last few months.
We were miles away from the nearest 'Costco' which is where the device came from and being a Sunday we wouldn't make it before closing, so we couldn't exchange that until the next day.
My husband has a strong moon in Gemini (communications / speed – Ruler is Mercury) which means when he is hit; we both take the heat.
Looking for another route on a tablet that kept misunderstanding my search phrases or leading us in the opposite direction of our intended direction, all the same; didn't help the situation.
I had to repeat myself at least a dozen times it seemed and it still didn't get us anywhere.
We just had to play it all by eye and what we thought we recognized.
Somehow we ended up taking an exit that put us back on track and we decided to head on down back to  the Saguaro lake and check out the population for that day.
Once we got there, we knew that it wasn't going to be there that day either.
So, I figured since we were already near the Salt River; let's take it on down to the bluff campground area and see some wild horses.
We backed out and drove in that direction.
Sure enough the river was like the lake and over loaded with rafters and tube passer by's for the day and as it is every summer… Though simply still a bit too rowdy, for us to take a float this particular day.
What we should have done is brought our chairs and made our way down the river side and sat there to enjoy our sandwiches and cold beverages, while wading in the water watching the kids play. But instead; Neptune had us in such a dreamy state and maybe a bit brain fried, so we couldn't think too clearly.
We ate where the temperatures were the hottest…At the picnic tables surrounded by the heat of the grills.
We could have got up and made our way elsewhere but we were too tired and hungry to take another step yet.
After our tummies were full, we took some drinks and made our way downward across from the highway bridge and onto the next mile marker, while we sat by boulders and wild brush.
Next time we will take our chairs but this was something we didn't do for quite some time so we took advantage of regenerating our behinds down in mother earth's beach quartz.
What the heck, we took our shoes off and sat down in the sand and I'll say; there's nothing like the landscape of mother earth so I decided to exfoliate myself and Louis a bit in its granular substance while wallowing with Louis and Lady around in the refreshing Adam's ale of the Salt River Pima – Maricopa Indian community, that represents the very old design of the Southern Arizona tribes.
The sun was soon to be setting and we wanted to get a head start before all the tubers, and make our way back to the truck.
Knowing we were the only boat in that vicinity it would be a nightmare to exit with such a large craft and all the incoming and ongoing traffic back on the two lane narrow dirt road if we didn't leave before all else.
Besides, we wanted to call it an early night and try to prepare for the next day back at Saguaro Lake; since it was a Monday and everyone would be either at work or school.
We came home just in time to get the boat covered before the dust storm it and brought about some scattered showers but we enjoyed the rain and swam in our pool before passing out over our plates after dinner and then further into Neptune's world for some Z-z-z.
Work hard, play hard is the motto and just because one day didn't go quite our way didn't mean the next day had to be the same right? Well…That's part two.
Just another 'Manic Monday' and so it was.
We were ready to set out for a new day at the lake and Saguaro was the plan.
All was ready and we began making our way.
The Rio Verde / Fountain Hills loop has a very picturesque scenic overlook and once there, you can only see farther.

Before you know it, you are tucked into the foothills of Saguaro Lake.
The parking lot had a few cars with their trailers but nothing like the previous day.
Looking outward onto the lake, the waters were calm and the few boaters seemed tamer.
We were excited and began to unload and park the boat by the slope.
Louis took the truck back to the parking lot and had a second thought that it might be a good idea just to test the boat first.
There was a lake officer patrolling the area and had his eyes on the roll for those violating to have their recreation pass.
Once in the boat, Louis turned on the engine and noticed right away that there was water spewing from the bulge pump around the boat engine gasket and seal.
Water on the electronics of any sort is never a good thing and we both looked at each other and thought: "Oh no, here we go again."
Though we were disappointed, we also thought better safe than sorry so we started to almost unload and Louis began to head back to the truck so we could hook up the boat and take it back to the shop…But with us, you never know always what to expect?
Just as my husband was heading to the parking lot, we noticed a work truck of some sort.
Turns out that the truck is from a Mesa boat shop and the driver is a mechanic.
What are the odds of that?
We definitely have divine guidance and Louis' Jupiter (Lord of luck) in Aquarius (hi-tech) working for us.
Louis began to walk towards the truck and wait for the two men to get out.
He asked them a few questions as the driver and passenger began to unhook the boat and get it ready for the water.
The driver was actually taking the passenger for a test drive because he was going to possibly make a purchase on the boat.
Once the boat was in the water, the mechanic came to inspect our boat engine and immediately noticed that the seal ring on the crank was out of alignment and needed to be fixed; as this is why we had water leaking into the boat.
Crank it up a notch? Not today!
He seemed to think we would be safe as long as we didn't go too far and didn't go fast.
We thought we would give it a "test shot" but not for long and certainly not at high speed.
Doing so may have caused our axial play or crank shaft bearings to fail our re-circulation path, causing us to not make it back ashore.
We weren't out there long and knew sooner than later that it was best to get back to the dam, near people and take the boat back to the shop ASAP.
Up and at it again, we were loading the boat back up on the trailer and we overheard a few visitors complaining about their violation tickets for not putting up their recreation passes.
NOT GOING TO BE US TODAY!
Failure to pay ten bucks can result in an eighty or more dollar fine and in some cases, a court appearance.
The energy was surprising and not in a good way.
Cops were stopped about every so many miles waiting for those flying by and those never usually get very far… We saw a few red and blues flashing along the way.
Indeed this wasn't a good day for many and we sure didn't need to get a ticket for no reason, so we were out of there in no time too.
No sooner than we were back on our way, it began to rain again and our boat didn't seem too happy because like us; it didn't get to play as much as it should have. But it sure got a good shower or two, before getting dropped off at the boat repair shop; for further service.
And we just came back on home to call it another day – another night.
Now our boat is playing the waiting game and so are we because we certainly don't need another expensive ticket on us after paying twice already.
Although this goes to show also that some folks don't need no type of healing treatment…They just need their boat but now the boat needs therapy and guess we will just have to laugh about this, because like they say; laughter is the best medicine…Pleasant sounding laughter that is.
In the end of this trip, I can't say it was a mistake because we are alive.
It's like one of our VIP's that says: "Miracles are everywhere…" "Where a door closes a window opens…"
Even though I know the cosmic laws and may have wanted to say no I ended up saying yes because I wanted my husband and our Lady Pup to have an enjoyable weekend.
More so, this was a challenge defeated…Objects, events, people, and blah – blah – blah – blah – blah…But that is what life is all about, yes?
It's an adventure with dilemmas every now and then to clear up, lessons to learn but most of all; experiences to appreciate and enjoy…That, we still did because we were together and that's a great place to be.
Blessings,
Terania