04/12/2014

"Consciousness – is the awareness of God cosmic identity and make a good use of it" anything else is deceptiveness! Pope Francis, Bible heads, Religious leaders, Monks, Gurus, televangelists, priests are cosmic unconscious born Neptunians unable to read the signs…" Dr. T

uri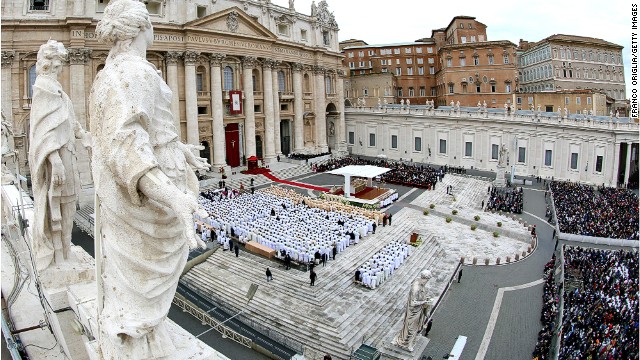 Pope Francis – Can You Handle The Truth?

2014 Arian Draconis World Predictions
http://www.drturi.com/2014-arian-draconis-world-predictions/
(copy/paste/share with the world Pls.)
Dear Readers;
As you know politics and religions have been hanging around since for ever and both truly stinks because their combined association represents the very essence of control, wealth and POWER over you!
On February 11, 2013 I wrote "11/2015-02/2017 End of All Religions" and when, following his US visit Vladimir Putin warned Obama saying, "You've Turned USA & West Into Godless Sewer" I took his words as another very serious omen.
Indeed the Age of Pisces, religions and deception will not go without a humongous blood bath! Putin is very smart, by associating with Pope Francis he may even get an option to visit the Vatican and become the new good guy in the eyes of the moronic, gullible masses!
(CNN) — Pope Francis made his strongest condemnation yet of sexual abuse by Catholic clergy on Friday, asking for forgiveness and pledging to impose penalties on "men of the church" who harm children.
"I feel compelled to personally take on all the evil which some priests — quite a few in number, obviously not compared to the number of all the priests — to personally ask for forgiveness for the damage they have done for having sexually abused children," the Pope said in remarks quoted by Vatican Radio.
"The church is aware of this damage, it is personal, moral damage carried out by men of the church, and we will not take one step backward with regards to how we will deal with this problem, and the sanctions that must be imposed," Francis continued. "On the contrary, we have to be even stronger. Because you cannot interfere with children."
DT Rebuttal: The sad reality is, abusive Plutonic born souls are attracted to professions that lead to power and control. There is no difference between a rotten cop or a bad priest, the question is what if the police administration decided, like pope Francis to apologize for all their bad cops' abuses. Now this ridiculousness won't stop the next bad cop to pass the psychology test landing him on a job on the police force.
In fact a true Neptunian is solitary in nature and live in a cave, away from the lime light and all the Vatican activities. Thus the rapist Plutonic born priest will aim for any type of social jobs offering them the option to get close to your children and use their positions as a mean to fulfil their evil sexual drive.
Continued: The U.S.-based Survivors Network of those Abused by Priests said it may be the first time a pope has spoken of sanctioning "complicit bishops." "But that is all it is: talk," said Barbara Dorris, SNAP's outreach director. "We beg the world's Catholics: Be impressed by deeds, not words. Until the Pope takes decisive action that protects kids, be skeptical and vigilant." The Pope's new comments, made Friday to members of a Catholic non governmental organization, the International Catholic Child Bureau, represent a shift from his previous statements on sexual abuse.
DT Rebuttal: Are you joking Mr. Pope, like Barbara Dorris, I am FAR FROM BEING impressed but WHAT will the pope (or the police administration and the US Dept. of education) will do to take the decisive actions that protects kids from bad priests, and the public from bad cops? "Be skeptical and vigilant" will NEVER work!
"Insanity: doing the same thing over and over again and expecting different results."
(Albert Einstein)
Pope Francis is taking the same ridiculous steps than the ones taken previously by the United States Department of Education trying to stop lost souls like Adam Lanza or Alex Hriba to reach and kill other children! And that is, NOTHING than would make a difference at all!
Like many schools all over the US did, Pope Francis could ask for more armed guards, and more cyber security to attend all services in all churches to protect the parishioners and their children. How ridiculous that is because, at the core THEY are collecting what they cultivated last two thousand years in their refusal to accept and teach God's cosmic identity.
But the police administration won't stop hiring bad cops like the US Dept. of education refuse to provide more safety to the kids and the Church Inc. do the same with bad priests raping their children. While I own the solution it's difficult to re-introduce God' initial cosmic ministry brought by the 3 wise men following the stars when the world is against .
It seems the world isn't ready to accept these "Kings" were ET's missionaries teaching a young Jesus all about the cosmic code secrets as to; later on introduce humanity to "Our Cosmic Father in the Heavens?"
It's difficult to reach you if you let your fears take over where the religious, controlling educational matrix are the first one to warn you to stay away from my cosmic teachings. And it's not easy to go against two thousands years of wrong and controlled information.
"God created the stars and the heaven for more than the sake of beauty; He gave them to us for interpretation so that we may live a safer more productive life. Man is superior to the stars if he lives in the power of superior wisdom. Such a person being the master over heaven and earth, by means of his will, is a magus, and magic is not sorcery but supreme wisdom.
~ Paracelsus
Continued: In an interview with Italian newspaper Corriere della Serra in March, Francis struck a defensive tone, saying, "The Catholic Church is perhaps the only public institution that has moved with transparency and responsibility. No one has done more. And yet the church is the only one that has been attacked." Advocates for victims of sexual abuse had slammed those remarks, calling them another example of the church prioritizing its reputation over the protection of children.
'Highest priority'
Early this year, a United Nations panel slammed the Vatican's handling of child sexual abuse within the Catholic Church and accused the church of protecting itself rather than the victims. The Vatican said in February that it would study the report, which claimed clerics were involved in the sexual abuse of "tens of thousands" of children. And in late March, Francis appointed an eight-member committee — a mix of clergy and laypeople, including a sexual abuse survivor — to advise the church on how to protect children, punish abusers and train church staff.
DT Rebuttal: Exactly Mr. pope! I am trying to advise the church on how to protect children, punish abusers and train church staff. This apply for the police administration to recognise the bad cops with a badge and the US Department of Education to recognize the Adam Lanza before they kill again! But cosmic ignorance rules at the elected top of the pie, our infantile scientific community ridicule my Astropsychology work, so there isn't much left for my supporters and I to do.
Do you really think I am joking when I tell you we only have fifty years to turn things around before the evil of ignorance consume and drown humanity into its own self destruction?
Continued: "Pope Francis has made it clear that the church must uphold the protection of minors amongst her highest priorities," Vatican spokesman the Rev. Federico Lombardi said in a statement announcing the committee members. However, the Survivors Network of those Abused by Priests dismissed the new panel, saying it was "based on a deceptive premise" and perpetuated the "self-serving myth that Catholic officials need more information about abuse and coverups."
Rocked by scandal
Pope Francis took over the helm of the Catholic Church just over a year ago from Benedict XVI, whose papacy was marked by the emergence of repeated allegations of sexual abuse by priests. Benedict said many times that abusers should be prosecuted, but victims' groups again said he did too little.
Benedict spoke with some victims of sexual abuse by priests on papal visits to countries including the United States and the United Kingdom, where he expressed his "deep sorrow" about the scandal. The Vatican selected those he met. In April 2013, a month after taking office, Francis recommended that the church's doctrinal office "act decisively with regard to cases of sexual abuse," the Vatican said at the time.
This would be "by promoting measures for the protection of minors, as well as in offering assistance to those who have suffered abuse, carrying out due proceedings against the guilty," it said.
Kick out those who sexually abuse children, U.N. panel tells Vatican
DT Rebuttal: Pope Francis, "deep sorrow and acting decisively with regard to cases of sexual abuse" will never clean up the Church Inc. nor the police nor our schools of the Plutonic born killers and/or sexual predators! They are all over, its like trying to stop the next criminal act!
Something extraordinary drastic must and will happen in the world as my vision confirm the end of the deceptive Age of Pisces and the Church as we know it today. The endless omens are much too obvious for me to ignore and warning you all is a all I can do! "11/2015-02/2017 End of All Religions."
Read also – A world going mad! Is the Internet killing religion?
Ultimately, trying to bypass the monopolization of education, scientific and religious matrixes to educate them all on the cosmic code jurisdictions, is not easy. I won't be able to start rebuilding my faith for humanity psychical welfare and its spiritual progress until everyone agree… Until then be ready for all my memorable predictions to unfold!
Just read, acknowledge and remember…"Four Blood Moons" April 15/16/17 and 23/24/25 2014 Cardinal Grand Cross Predictions." It is easier to win your state lottery than to land on a real prophet! Indeed the future has and will always be my utmost faithful witness! See you then
Life is a constant process of changes only the spiritually advanced souls can decipher but we are all trapped into a dense, hard, logical physical world lead by a stubborn non cosmic conscious very large scientific and religious community. The challenges we face are extraordinary because of the misconception and misunderstanding of a cosmic God so many are unconscious of.
Each time one of you resonate with me and share my work, the real option to gain the golden key to what it mean to be human and learn from our Cyber Cosmic University becomes a reality for more curious human beings looking for the real God!
In a world where political leaders assign themselves to religious archaic convictions and trust its infantile scientific community only wars and extreme stupidity can plague the rest of humanity.
Dr. Turi
Dr. Turi on Jerry Pippins radio show Monday April 14 from 7 to 8 PM Eastern
Do not miss this show, I will elaborate on Why flight 370 pilot took so many innocent lives with him? I will also give the date for the next SOS To The World window and make more predictions about natural disasters. I will elaborate on the 2014/2016 Arian Draconis, Vladimir Putin, Ukraine, the USA etc. I will also offer a SUPER deal that will last only a few hours after the show. Be there, it will be very HOT!
"If every 8 year old in the world is taught Astropsychology and meditation, we will eliminate ignorance and violence from the world within one generation." Watch the future!
Dalai Lama & Dr. Turi
Blessings
Dr. Turi
HELP ME FIGHT THE ILLUMINATI WITH MY REALITY SHOW PROPOSAL
L'oeil Du Droit A La Force D'Airain
SHOW YOUR SUPPORT HELP ME INTRODUCE ASTROPSYCHOLOGY AND GOD COSMIC CONSCIOUSNESS TO THE WORLD. OUR CHILDREN PSYCHICAL/SPIRITUAL WELFARE MUST BECOME A PRIORITY WE DO NOT NEED MORE ADAM LANZA!
listen to my latest radio show with Ted
Endorse my work! Help all the children of the future please!
JOIN US SHOW YOUR SUPPORT! BECOME A VIP
If you are not happy it is because you do not live your destiny!
A life without knowledge of the stars' plan is contrary to all law and order"
Acknowledge God's Cosmic Identity Free The Human Spirit
602-265-7667