"For those who know me and the Cosmic Code jurisdictions, no explanation is necessary;  For those who do not, none will ever suffice… If every 8 year old in the world is taught Astropsychology and meditation, we will eliminate ignorance and violence from the world within one generation."  Watch the future!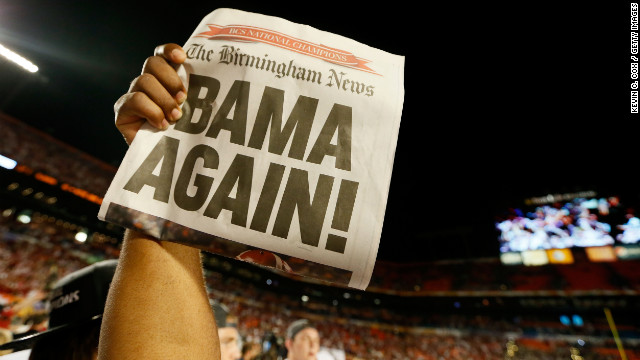 From national championship to jail for 4 Alabama football players
Dear readers:
You are once again witnessing the Scorpius Dragon at work! In the name of God how is it possible for those kids from the lime light to descent all the way down to hell you may ask? All four teammates ended  up into Tuscaloosa County Jail.  When I profess this dragon is relentless and aim for the cops and the kids, without cosmic consciousness I am expecting many more of those dramatic news to plague CNN.  Meantime in the name of ignorance families, great fates and lives are totally destroyed…
Why in the name of God those guys who worked so hard and had a brilliant life ahead of them, money, fame and love in one night alone lost it all? This is what the cops, the families members, the victims, the world and the perpetrators themselves are asking themselves?
WHAT DID WE DO AND WHY DID WE DO IT? 
Well readers, this is what the Scorpius Dragon is all about, it KILLS, remodel, change lives for ever and offer serious WAKE UP CALLS! And he is endlessly watching over your heads and the ones of your loved ones ready to strike if you make a single error! And sad enough,  those cosmic unconscious kids made a few too many that night!  In fact this Scorpius Dragon is much more active and powerful after dark!  Another victim of this Dragon met with his death during the night hours yesterday… Who Was Christopher Dorner
Yet the scientific community, the cops and 99.09% of the world including the "cosmic unconscious" staff at the The American Academy of Police and Public Safety Psychology are wondering on the "undiscovered gene" responsible for their dreadful masochistic behaviors!
IF you were a student of Astropsychology, chances are you would know those kids were born with Pluto (drama) in Scorpio (power)  and are from the "Death Wish Generation." This dragon makes those kids regenerate with power, abuse, sex, drama and crimes… Imagine that scientists, a  psychical  inherited cosmic "gene" instead of wasting billions of tax dollars on too many of your ridiculous scientific researches!
But what I can assure you, with the moon currently in the addictive sign of Pisces, drugs and alcohol were involved prior to the mishap, the "accident" or the Act of God!  Now had the parents, the teachers, and the entire educational system, COSMIC CONSCIOUSNESS, those kids would have been coached  by the adults not only in the hard physical game but in the game of life.. and all lost the most important game ever…
2013 Moon Power scepter:
WED., THU., FRI., SAT., SUN. — FEBRUARY 13, 14, 15, 16, 17:
RULERS — Mars (Disagreements/war) and Neptune (religions/Oceans/alcohol)
Work, Career and Business: The new moon will make you lucky but Mars could upset your plans. Be nice with others at work; use your knowledge and don't expect your boss to be aware of Mars' impatience and irritability.  Neptune may make it difficult for you to concentrate these days. Try to be more practical in your endeavors, important matters related to finances will be on your mind, and all will be fine soon.
Memo – "Hayes and Pettway waited in a vehicle, police said. Later that morning, Williams and Calloway used the second victim's debit card to buy snacks from a vending machine, police said. The football program suspended all four players indefinitely."
Partnerships: As always communicate my work to others and make good use of Moon Power Starguide. You may also suggest it to your partner, as two souls aware of the stars are better than one. Using Neptune's intuitive power may save a situation, but avoid complaining and do something about it. Control Mars' impatience and understand the needs of your partner too.
Family and Friends: In time of a New or Full Moon, people have some problems sleeping. Use tons of diplomacy with the children; Mars will want to keep them up late. Spend some time with the children; teach them love and harmony as Mars may make them play rough. Remember dangerous Mars is with us and with Neptune nearby, be aware around water. (*or drugs and alcohol?)
Memo – "According to police, Pettway, Hayes and Williams punched and kicked a student shortly after midnight Monday until he was unconscious. About an hour later, Williams allegedly beat up another student until he, too, lost consciousness and took his wallet, WTVM said."
Environment: Combined with Mars' accident prone nature and Neptune's absent-mindedness, expect sad news from water, oil or the Middle East. Once more, Mars' destructive instinct is unpredictable, so avoid dangerous situations, especially if you spend time close to the water this weekend. 
HOW MORE PRECISE CAN  I BE?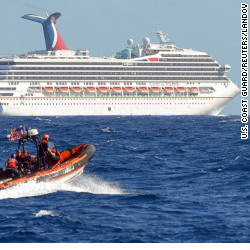 Raw sewage sloshing, stricken ship gets a tow
Had the mothers or the victims read Moon Power instead of the Bible they would have "connected" with God appropriately and read the warning signs…GET THE BOOK! I brought it down to $15 only so everyone can afford a copy!
No one scored in the big board of intelligence, education, ingeniousness and cosmic consciousness and while billions are changing hands with the moronic mass, science whoring with the pharmaceutical corporations and the NFL none of them ever  invested in my books "The Power of the Dragon"  my new "2013 Moon Power Daily Guidance and Predictions" or any of  my cosmic teachings. Had  they been curious learning to read God's signs outside of the wastefulness found in deceptive religious material, all those kids would have had a chance to control their powerful natal UCI. The chances for one of those cosmic unconscious kids to suffer  its own "Unlucky Dragon Window Dates"  and stimulate others to act obnoxiously is very high and probably the main reason for such brutal act.
This makes them all a prime target for the Scorpius dragon because ignorance is evil and knowledge is power! But again what do I know when my own UCI is well ahead of time?  All I can do is to make you aware because you happen to be one of the luckiest human being walking this planet and yet you are not aware of this fact! I let you find out why because I do not want any young soul to assume I am on another ego trip! Now for your sake and those of your loved ones, what you have to do next,  is to get more of this rare Cosmic wisdom because the true teacher is extremely rare! Doing so will make you above this deadly lurking Scorpius Dragon and use its power at your advantage…
 BE SMART FIND OUT WHAT TYPE OF COSMIC DRAGON YOU AND YOUR CHILDREN OWN!
At 63 years old my independent researches on Astropsychology can bring the many answers they are all enslaved to find for sure but will they ask for me to teach them! Sure…
*The intuitive mind is a sacred gift and the rational mind is a faithful servant. We have created a society that honors the servant and has forgotten the gift. We will not solve the problems of the world from the same level of thinking we were at when we created them. More than anything else, this new century demands new thinking: We must change our materially based analyses of the world around us to include broader, more multidimensional perspectives."
 ~Albert Einstein*
DEAL ON MY BIRTHDAY ONLY!
on February 26th, 2013 I will be 63 years old, thus for my birthday (from 6:00 am to 12:00 pm ONLY) I will offer the public the option to join the Cosmic Code website for 12 months for only $25.  The regular price for a 12 months subscription is $99.95 so make note of my birthday 02/26/2013 and become a VIP!  All you have to do THEN is to make a $25 donation and immediately email my wonderful wife Terania at teraniapromodir@gmail.com and she will comp you in. I want to make it a special day for me and for you too so you can enjoy my pearls of wisdom and learn more about the Cosmic Code. Note also becoming a VIP means you get a deal / discount on all my consultations and my Astropsychology home course.
Lastly be prepared for my FREE Global Teleclass tonight and let's have fun…
February 13, 2013 – Join Dr. Turi FREE Global Tele-class
How To Unleash Your Psychic power
Join Andrew Aloha "Live" with Dr. Louis Turi in "The Cosmic Codes"
SuNite, 17 February 2013 – From 7 – 8:30pm AZT
On Spiritual Image Production's BlogTalkRadio
(Click Button Here to Listen!) 
The Cosmic Code is the understanding of God's celestial divinity and how the Creator speaks to his children via the signs. We are bringing back Cosmic Consciousness to this world and invite you to acknowledge, understand and translate your own untapped potential through the Supra-Conscious in time and space. The Cosmic Code with Dr. Turi is a powerful and fascinating journey into the workings of the Universe outside traditional Astronomy offering the Golden keys of what it means to be human.
Dr. Turi is a proficient author and a captivating speaker, his profound Universal Wisdom astonishes everyone. He was recognized in the 2003 Marquis "Who's Who in America." Dr. Turi is the personal counselor of many celebrities, Ivana Trump, Peter Fonda, Gary Busey, Denis Haysbert, John Gray and many others. Dr. Turi is a favorite guest of George Noory on Coast-To-Coast AM radio and the BBC in London and appeared in numerous television programs worldwide……for more on this story go to www.spiritualimageproductions.com/LiveFromSedona
For more on Dr. Louis Turi go to www.drturi.com 
Blessings,
Andrew Aloha