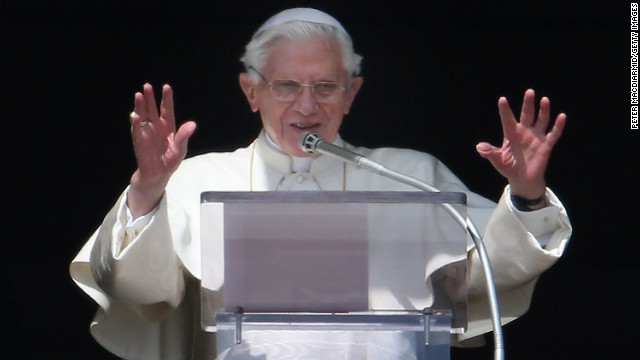 Pope delivers final Angelus prayer
Vatican City (CNN) — Pope Benedict XVI delivered his final public prayer ceremony Sunday to a crowd of thousands at St. Peter's Square in Vatican City, amid rumors of a sex scandal brewing as he prepares to step down.
Dear Readers:
http://www.drturi.com/vatican-zodiac/
Again well before CNN made the announcement of the Pope being "forced" to step down, on February 11, 2013 I shared my vision with the world "11/2015-02/2017 End of All Religions." Something I announced and explained in all my radio shows, including on Coast to Coast am. In this Cosmic Code newsletter I will elaborate on the real reasons why  Pope Benedict XVI  is forced out of the deceptive Neptunian game.
First let me remind you of yet another Neptunian who felt also victim of the  Sexual Scorpius Draconus ruling this world until February 2014, in my radio show with Santos Bonacci I clearly mentioned that NOTHING will be kept a secret for long and EVERYTHING will come to the light…  I also warned of the end of the Age of Pisces / religions, restructure of the Middle East etc.  This relentless Dragon is also aiming for a full revamp of the Law Enforcement Agency, however regardless of the reverse psychology  used in my daring efforts to reach the FBI, they finally visited me, but they did not get it!  The FBI and the Dept of Homeland Security Failure"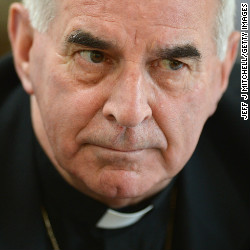 Cardinal Keith O'Brien is accused of abusing four men studying to be priests in the 1980s. It's the second potential scandal to emerge as the pope gets ready to retire.
Now if you go to www.drturi.com and scroll down to the 23 set of predictions and visions some are simply too undeniable to ignore. I know I may sound redundant for my older VIP's but more and more people are joining the Cosmic Code website because by reading my work, all they can do is to realize the difference between divine information and pure imagination…
 The question is now, did the reader read the Scorpius Dragon cosmic code newsletter I generated back in  August 2012 and get a feel for this Scorpius Dragon? Nope there are no accidents, only cosmic circumstances unknown to the FBI, our infantile science and the world at large!
Memo fro my prediction page! 

 
IF YOU ARE A COP YOU BETTER READ THIS AND PASS IT ON TO YOUR COLLEAGUES! 
Updated February 21, 2013 – FBI plagued by 'rash of sexting'
LATEST RESULTS! 
Two months of violence in Vegas
Reader, do you remember the  Pope butler news and the Money-Laundering Probe Sparks Another Vatican Scandal? here is more reports from the Priest Abuse Attorney Pedophile Priest Information Center but I doubt like 99.09% of the world's population they know anything about the Scorpius Dragon current phenomenon.
Diocese of Rochester NY New York Priest Abuse Lawsuit Pedophile Watch
Diocese of Syracuse NY New York Priest Abuse Lawsuit Pedophile Watch
Diocese of Rockville Centre Priest Abuse Lawsuit Pedophile Watch
Only yesterday, on my way back home, I was listening to KFYI and a cosmic unconscious psychologist named Terry Gilberg was talking about what she thought the reasons were for the Pope "dismissal."  Astropsychology allows anyone trained properly to smell the codification of thoughts and religious poisoning for miles and her PHD's rational psyche spoke the same psychical shortcomings and lack of curiosity of another radio host I know well named Dr. Laura. In fact I exposed her UCI to the world a few years ago, check it!
Lacking cosmic consciousness means dealing with life with the five limited human senses only, all enforced by the accepted scientific disciplines. Yet today' scientists have not realized the big difference between education and intelligence… Blaming the endless taxing challenges the Pontiff has to deal with is far from being the real reason behind his early retirement but again did the show host and her KFYI comrades read "Dr Louis Turi Predicted The Pope would step down in 2012" or did they listen to Santos and I radio show to get real answers?
 NOW ARE YOU READY FOR THE REAL REASONS BEHIND HIS "DISMISSAL"
Pope Benedict XVI was born 16 April 1927
From prediction page www.drturi.com – ALL SOULS BORN IN OCTOBER AND APRIL ARE THE TARGET OF THE DRAGON  – ALL SOULS BORN IN MAY AND NOVEMBER  ARE ALSO THE TARGET OF THE DRAGON AND MANY WILL BE FORCED TO A FULL PARTNERSHIP RESTRUCTURE.
 SORRY THIS EXTRAORDINARY SECTION IS FOR MY VIPS' ONLY!
READ THE REST FROM  Cosmic Coders Only  GROUP. 
 Indeed an article you do not want to miss because the media and the Illuminati are keeping you uninformed… The facts I will divulge demand you to own a very strong stomach because the undiluted truth always hurt and never intended to please anyone…
The general public is now allowed to cruise through 1250 articles I wrote to sample my work and if you like my work, please join the VIP's to read all the enlightening articles I write everyday. It's only once you become a VIP and join the "Cosmic Coders Only" group that you will be able to read the new articles I write everyday and invite a friends.  The option to pay for your subscription is above in the "Dr. Turi Online Store –  http://www.drturi.com/store/cosmic-code-membership/ " This is what the new group icon look like, where all the goodies are and it is located under the public forum.
Pick the price you can afford to become a VIP ( not applicable for current VIP's) but remember my daily guidance, SOS To The World warnings, monthly personal horoscopes, Universal predictions, special deals on services, books, courses, teachings of the Cosmic Code WILL indeed save your life! And that is a very small price to pay to become a wise Cosmic Coder. There are many options to join from $10 to a $1000 what ever option/price you choose make sure to confirm your subscription by emailing Terania at *teraniapromodir@gmail.com
Blessings to all
Dr. Turi
FOR MEDIA RELEASE:  The Golden Age Psychic Show Returns to Relics Restaurant in Sedona
On FriNite, 15 March 2013, Spiritual Image Production's (SIP) "Golden Age Psychic Show" will be returning to Relics Restaurant & Lounge for the first time in nearly three years for its Three Year Anniversary.  On 5 March 2010, the online/offline psychic show hosted by Andrew Aloha, began airing the outreach program to people all over the world.  It presently reaches more than 30 – 50,000 people, mostly California,Arizona and New York, with many of them who continue to return for advice due to the quality of services rendered.  Since 2010, Spiritual Image Productions has aired more than 250 shows and has had more than 117,000 listens of those shows. 
SIP's event will be featuring Psychic Mediums Dr. Louis Turi (Phoenix,Arizona), Dr. Martha Reed (Phoenix, Arizona) and Angel Asor (Fountain Hills, Arizona) who will be doing FREE mini-psychic readings in person for Paid Guests from 4 – 6 p.m., while Neil Baker (Los Angeles, California) will be doing them over the phone.  The show will be from 7 – 9 p.m. whereby both guests in person and over the phone will be given FREE mini-psychic readings during the show.  Please arrive early, there will be limited seating.  Tickets are $15 online and $20 at the door.  For more info call  (928) 310-1700 or click on "The Golden Age Psychic Show" gif/link on the left at www.spiritualimageproductions.com.
Also, FREE, the Astro Psychic Show with Dr. Turi, Saturday, 16 March 2013, 3 – 5 p.m., Keep Sedona Beautiful, 360 Brewer Road.  For more info call  (602) 265 – 7667. Stand by for a full explanation of this show soon…