9/23/2014
"God created the stars and the heaven for more than the sake of beauty; He gave them to us for interpretation so that we may live a safer more productive life.   Dr. Turi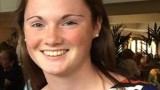 Hannah Graham (born Hannah Elizabeth Graham on Feb. 25, 1996) is a University of Virginia student, who went missing on Sept. 13, 2014. She was last seen in videos during the early hours of September 13, throughout various parts of Charlottesville, Virginia. She was briefly followed by an unidentified man, but that man claims she walked away with another unidentified man. Police have been searching for her ever since.
Hannah Graham is best known as the University of Virginia student who went missing on Sept. 13, 2014. Hannah Graham is the daughter of John and Susan Graham. She attends the University of Michigan. She plays the alto saxophone, loves starburst candy, and enjoys skiing. She went missing on Sept. 13, 2014.
Dear readers;
While the police is trying very hard to find out what happened to Hannah, there are "signs" in her UCI  depicting a fate that could easily been avoided had  her, her parents, the teachers and the US Department of Education allows a non religious cosmic spiritual education in their curriculum.  There are no accidents, nor circumstances that can not be avoided if warned of the real possibilities. Again would you cross a red light and hope for the best?
Hannah Graham is; like all previous and future innocent souls, the victims of today dry and much too rational education. Indeed humanity has lost the spirit making all the children prone to become the preys of many unstable criminals. Young and adults alike MUST reconnect with God's cosmic Divinity, stop depressions, suicides and live in a safer world.
 Topic 'Joan Rivers Was Killed By Her Doctors!'
Topic 'Robin Williams' Suicide Fully Explained – Astroforensics of the future at work…'
This article will NOT be public! and the following will be translated in plain and simple English… "Its a miracle for curiosity to survive education…" Einstein Be aware of the cosmic code jurisdictions and God cosmic divinity or, soon or later, pay the penalty! GET YOU PERSONAL LUCKY DRAGON DATES and join my Cyber Cosmic University to learn more!
ON TO THE EXPLANATIONS NEXT!  Hannah first then I will expose her killer cosmic identity! 
Blessings
DT
PLANET POSITION (HOUSE) DIGNITIES
Sun 06Pis10 (2)
Moon 27Tau50 (4) exalted
Mercury 13Aqu21 (1) exalted
Venus 19Ari09 (3) detriment
Mars 07Pis54 (2)
Jupiter 10Cap58 (12) fall
Saturn 24Pis52 (2)
Uranus 02Aqu31 (1) dignity
Neptune 26Cap42 (12) fall
Pluto 03Sag05 (11)
MNNode 19Lib30 (9)
MSNode 19Ari30 (3)
IN MUTUAL RECEPTION: Saturn in Pisces Neptune in Capricorn
DISPOSITORS: Sun disposited by Neptune
Jupiter disposited by Saturn
Moon disposited by Venus
Saturn disposited by Neptune
Mercury disposited by Uranus
Uranus disposited by Uranus
Venus disposited by Mars
Neptune disposited by Saturn
Mars disposited by Neptune
Pluto disposited by Jupiter
ASPECT PATTERNS: Talent Triangle, tight Neptune
Saturn – focus
Moon
T-Square Pluto
Sun – focus
Mars – focus
Moon
SIGN MODALITIES: Planet Points Percent
Cardinal 3 25 %
Fixed 4 33 %
Mutable 5 42 %
SIGN ELEMENTS: Planet Points Percent
Fire 2 17 %
Earth 4 33 %
Air 2 17 %
Water 4 33 %
IN CRITICAL DEGREES: (Mansions of the Moon):
Neptune
MOON PHASE: Crescent
MOON LATITUDE: 03 S 19
MOON DISTANCE: 396588.6 km. Far Distance
MOON SPEED: 12.28523 deg/day Slow Speed
MOON IS VOID-OF-COURSE
LAST ASPECT BY MOON IN SIGN: Trine Neptune
OUT-OF-BOUNDS DECLIN.: None
DOMINANT CHART HARMONICS:
ODD LOWER-ORDER: 1 0.91867
9 0.97204
EVEN LOWER-ORDER: 8 0.98786
2 0.99564
ODD HIGHER-ORDER: 131 0.96533
63 0.96746
EVEN HIGHER-ORDER: 132 0.87856
18 0.90611
 L'oeil Du Droit A La Force D'Airain
 Now only $5 – Click image above to purchase the 2014 Moon Power Starguide –  Now Available for Download!!
---
Show your support join my Cyber Cosmic University