For those who know me and the Cosmic Code jurisdictions, no explanation is necessary; for those who do not, none will ever suffice…
Dr. Turi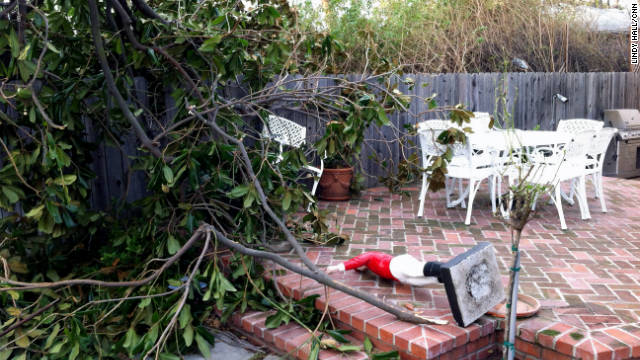 Winds up to 140 mph hit California
Hurricane-force winds leave widespread damage across half a dozen states, including California and Utah.
It's all part of a system the federal weather agency called "the strongest easterly wind event in the past several years."
Dear Readers; I wonder when our infantile science will start to acknowledge the values involving the Cosmic Code responsible for all human and natural affairs? Indeed reading the AIR signs last year and see my vision unfolding as "predicted" on CNN makes me better than all the NWS -NASA and the federal weather agency educated heads combined together and I do all this for free. It seems logical to invest your taxes in this rare "pseudo-science" because "It's all part of a system the federal weather agency called" IGNORANCE!
The facts are plain to see TODAY on CNN when I saw it all happening back in June 2010 when I wrote my "predictions." Don't you think its time for our governmental officials to stop fighting each others using religions to get in power and instead look above in the stars to see who they endorse? Again readers, all you have is those deceptive archaic religious teachings, your infantile science and unconscious "conspiracy "Talking Heads" spreading their ignorance at the speed of light to a lost, moronic mass of followers.
And if science could / would acknowledge, use or predict weather patterns and human behavior within the UCI or "Unique Celestial Identity" software system I developed, might they (our politicians/science and humanity at large) not also find a way to control their mental shortcoming?
Dr. Turi
Enjoy the facts, join my cause and help me change this world…
We are fast moving to an "AIR" dragon that will have the "weather man" wondering what the heck is going on and all the fire fighters on their toes. I see quite a lot of tornadoes; wind storms, sand storms, fire storms stopping traffic (check 2011 Moon power Supernova windows for most impact) and such a "wind" activity can only make the upcoming hurricane "season" a very busy one. Again do not expect the NWS or science at large to remotely understand the inner workings of the Cosmic Code or God' sign plaguing the world in the year 2011 until August 2012.
Update: June 09th, 2011: CNN – Arizona wildfire" 2nd largest in history
Update: April 17th, 2011: CNN – Storms, twisters kill 125 in Joplin MO
Update: April 17th, 2011: CNN – Storms, twisters kill 342 in 4 states
Update: April 9th, 2011: CNN – Fire may be worst in Texas history
Update: April 9th, 2011: CNN – Iowa county declared disaster area after tornado
Updated: April 10th, 2011: CNN – Germany: Freak sandstorm causes deadly multiples motorway pile-up
Update: November 23rd, 2010: CNN – Midwest hit hard by extreme winds, flash floods
Update: December 2nd, 2010: — Shifting winds from the storm front that is moving through the eastern United States produced heavy snow has shut down Interstate 90 near Buffalo, New York, leaving motorists stranded for more than 12 hours as of Thursday morning, with more snow on the way.
Update: December 3rd, 2010: –Haifa, Israel (CNN) — Police said Friday that they suspect arson in the wildfire that has killed at least 41 people and injured 17 in northern Israel over the past two days.Changing winds made the fight against the fire very difficult. Officials called the wildfire, which had scorched more than 7,400 acres and continued to burn, the worst in the nation's history.
Be there tonight!
Nancy du Tertre
"The Skeptical Psychic"
www.theskepticalpsychic.com
Host, Hot Leads Cold Cases, Para-X and CBS Radios, Fridays 8-9 EST

Call 248-545-7685 with your questions 248-545-7685 or go to http://www.theskepticalpsychic.com/ , from there you can also send questions from the chat room at http://para-x-radio.com/ or instant message from CBS New Sky Radio.
Psychic power is very real and to a certain extend all human beings possess it. Certain experiences can stimulate the subconscious to interact with the Supraconscious in time and space and feed on the archetypal realm of consciousness. Nancy is a very gifted psychic herself and I will explain using Astropsychology why top spiritualists healers such as Nostradamus, Edgar Cayce, Madame Vladasky were born extraordinary gifted pyschics. This show promises to be very educational for all the psychics and the public using psychics.
BE THERE HAVE YOUR QUESTIONS READY DO NOT MISS IT!
JOIN THE COSMIC CODE, THIS CHAIN OF FREE NEWSLETTERS WILL STOP AS OF 01/01/2012
JOIN NOW FOR THE NEXT 12 MONTHS, LET ME GUIDE YOU PERSONALLY AND UNIVERSALLY – JOIN NOW BECOME A VIP LEVEL 2 FOR $24.95 OR A VIP LEVEL 3 FOR $99.00 OR PAY $120 AS OF 01/01/2012.