"For those who know me and the Cosmic Code jurisdictions, no explanation is necessary;  For those who do not, none will ever suffice… If every 8 year old in the world is taught Astropsychology and meditation, we will eliminate ignorance and violence from the world within one generation."  Watch the future!
Dear Cosmic Coders:
DID YOU MISS MY MAY 08, 2013 RADIO SHOW?  More about Jodi Arias there…
Stand by for more on Ariel Castro VIP's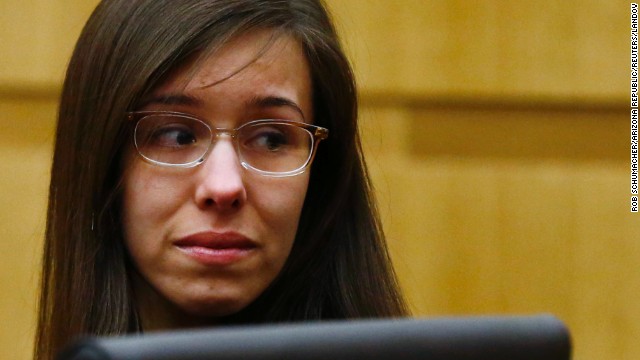 (CNN) — A day after a jury found her guilty of first-degree murder in the slaying of her ex-boyfriend, Jodi Arias will return to court Thursday to begin a phase that will move her closer to learning whether she will live or die.
Dear VIP's;
After 5 longs years feeding on our tax dollar, the legal hyenas are finally full, yesterday the jury found her guilty of first-degree murder for killing Travis Alexander back in June 2008 but what is exceptional in this case is Alexander was "over killed" stabbed repeatedly, shot and nearly decapitated. How any human, male or female could behave in such a way? Not even animals behave that bad…
So using the science of Astropsychology I will offer some light on the working of her psyche outside of conventional disciplines used in psychiatry or forensics. *Forensic science is the application of a broad spectrum of a cosmic unconscious science using modern technology to investigate and establish facts of interest in relation to criminal or civil law.
As mentioned so many times in previous newsletters, no man (or woman) is born physically or  psychically equal and human can only judge others through their 5 limited human senses and what they perceive only as facts! The awareness, wisdom and rules imparting  the Cosmic laws making up the complex natal UCI of any and all human beings is not yet in place allowing many born criminals to have escaped justice. With the help of the legal hyenas and a corrupted abusive legal system, many more born killers are paroled and released back  into our streets. The results are dreadful with the endless killing of our courageous public servants or innocent victims falling at the hands of repeating offenders.
Being psychically superior and presenting the facts does not appeal to our conventional science whoring around with the pharmaceutical industry who are used by private jail owners to control the dangerous animals/criminals they hosts with trucks of drugs.  Yes everybody is making money while the worse our our society is rotting in jail and this make you much safer!  But if, like me you live into the future, creating monsters and drugging them for control is not the way to go because,  there will be a day where the  criminal population will override the law obedient citizens.
Jailing and numbing human beings is the end result of a non cosmic society who rely on science and religions to establish and maintain order but in these days and Age, it became an obvious failure if you look at the state of our world. It will get much worse before it gets better readers, especially if the voices of wise people like me who own cosmic spiritual truths are ridicule, muted and shut!
It is very easy and a normal instinct for anyone to immediately point out the finger to the perpetrators, the abusers, the killers and demand justice, especially when powerful emotions are involved!  But what you are missing is all those dead or alive monsters where once upon a time, innocent, beautiful trusting children, exactly like the one you proudly love and protect! With the difference that all the killers, including Jodi Arias and Adam Lanza are/were the end products of a society gone completely mad.
A society that indulge totally in the practice of  deceptive religions, ridiculous entertainments and sports. While those accepted endeavours are part of  what it means to be human the crucial spiritual cosmic education  is non existing, refuted or sought as pseudo-science. Worse, it is perceived by the religiously poisoned blind young souls as paganism and witchcraft leading to the eternal burning in hell…
While traditional teachers of religions, science, technology, arts, history are boundless, the true cosmic conscious teachers are very hard to find… And this is the beginning of all your problems human and this lack of regenerative therapeutic spiritual cosmic teachings is what is creating an endless chain of monsters…
 Following the Connecticut tragedy I posted "In Memory of The Sandy Hook Elementary Shooting Victims"  offering real answers but the million of hits are missing because the majority of human being can not enter the subtle realm of  supra- cosmic consciousness and would rather watch a more entertaining video something requiring little or no deep thought at all… All I can do is to keep offering you answers and solutions a modern world is ill equipped to accept or even recognise, all the while breeding more "monsters" through their incomplete educational system.
It pains me to realize cults such as Scientology, Mormonism, Witness of Jehovah  and a myriad of others have no difficulties finding the financial support they need to proliferate ignorance and fears while the essence of God's celestial manifestation is not allowed to manifest and grow… But it seem to be a higher order I must oblige by, for God's true pearls of cosmic wisdom are very rare and not for everyone…
Remember in the eternal battle between emotions and logic, emotions will always win, and if you have been abused or victimised by a criminal do not follow the same conventional "legal" belief that this human being should be destroyed.  Find in your heart the same reasons I am today, at 63 years old able to assimilate and accept the fact that everyone of them were innocent children. All those monsters, present, past and future are the end results of a social and educational system still refusing to offer our children the option to cosmically auto analyse their vices and virtues and apply their will before and after puberty.
Remember readers, I am well ahead of time and my work is dedicated to bring back the spirit of supreme wisdom and help a sceptical, rational infantile science to decipher God's signs making up the karmic UCI of all the children of the world.
DO YOU SEE A KILLER JODI HERE?
This could be anyone child, this could be your child, look at her face did Jodi then nurtured killer thoughts? Obviously NO and the sad reality is; today thousands of people are reading my work and in a few years from now their child will look like a lost monster facing a cold jury!
I AM A HUMAN BEING, I WAS MADE A KILLER BY A COSMIC UNCONSCIOUS RELIGIOUS  EDUCATIONAL DYSFUNCTIONAL SYSTEM. WHY DID I KILL ANOTHER HUMAN BEING? IT WAS A GROWING MONSTER INSIDE ME WHO DID IT!
Again I am asking the reader to think outside of the deep hateful emotions portraying her as evil, especially if you are connected to the family or the victim. I no way will I ask you to ignore the facts that you are dealing with a convicted killer or ask for your forgiveness, no this is not my message to you readers. The law is the law and breaking it brings serious penalty and the monster deserve to rot in jail or die, period! There is nothing that can be done for Jodi, its much too late, the rigid system you live in did not give her a chance when she was a salvageable child turning into a beautiful teen then a young adult full of promises for a wonderful chance a life itself!
I am asking you to THINK and think hard not for Jodi, but for your and all the children of the world!///////////////////////////////////////////////////////////////////////////////////////////////////////////////////////////
Reply by Robin about comparing O.J. and Jodi! 
"DT  0 .J. and Jodi are both born on July 9th. Casey Anthony and Jodi Arias both have the Dragon's Tail in Scorpio. Jodi has the hidden dragon. Thank you, Dr. Turi. Looking forward reading Travis UCI. "
Your student Robin
SORRY THIS VERY LONG AND EDUCATIONAL COSMIC CODE NEWSLETTER IS FOR MY VIP'S ONLY! THE MOST IMPORTANT PARTS OF THIS ARTICLE IS FOR THOSE CURIOUS ENOUGH TO OWN THE GOLDEN KEYS TO WHAT IT MEANS TO BE HUMAN – JOIN NOW, BECOME A VIP TO READ ALL THE COSMIC CODE NEWSLETTERS YOU MISSED! Join the cosmic code website  its free!
While my work is not generated for the envious feeble minded young souls this crowd of sceptics needs me the most and the irony is; they don't event know about it!
I have the DOB of Travis Alexander and I will expose his UCI the same way I did for Jodi Arias so the curious, smart reader can appreciate more of my expertise in Astropsychology and see the man as God designed him to be and not only another victim of yet another man made monster… I WILL DO THE SAME WITH Ariel Castro, 52  (born in 1960) soon AND EXPLAIN WHY HE DID WHAT HE DID OUTSIDE OF CONVENTIONAL SCIENTIFIC BELIEFS. 
Remember if you want to be happy and successful you must  live your destiny as intended by God cosmic rules!
Blessings to all
Dr. Turi
HELP DR. TURI'S MISSION! BE A DIRECT PARTICIPANT TO CHANGE THE WORLD! Click on this link to offer donations for OUR cause and for the children of the future.
Blessings and thank you from the heart. 
Question? Help? Talk to Terania  
602-265-7667